Personality Test
Basic
Analysis
If you want a quick and free way to
sample the Color Code Personality
Test, try this version.
(You can always upgrade later).

FREE

Results Include
A pie chart showing you what percent of your personality is made up of your core color.
A general description of your core, or "primary" personality type
Full
Analysis
If you want a completely customized
report that is designed to fully analyze
your personality, this is the version for you.
(recommended).
$39.95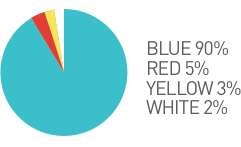 Results Include
100% Satisfaction Guarantee or your money back!
A pie chart showing you what you scored in all 4 colors
A Comprehensive Analysis containing over 20 pages of customized content that describes your individual personality style in depth
Basic descriptions of the other three personality colors
A list of your strengths and limitations, according to color category
Knowledge of your Secondary Color (if you have one), and how it affects you
A video representation of your personality style
An explanation of your emotional needs and wants
A list of which of your traits are "Charactered," "Healthy," "Unhealthy," and "Dysfunctional"
Personal development tips for you to consider
$97 worth of bonus materials including video, audio, and PDF learning resources
---